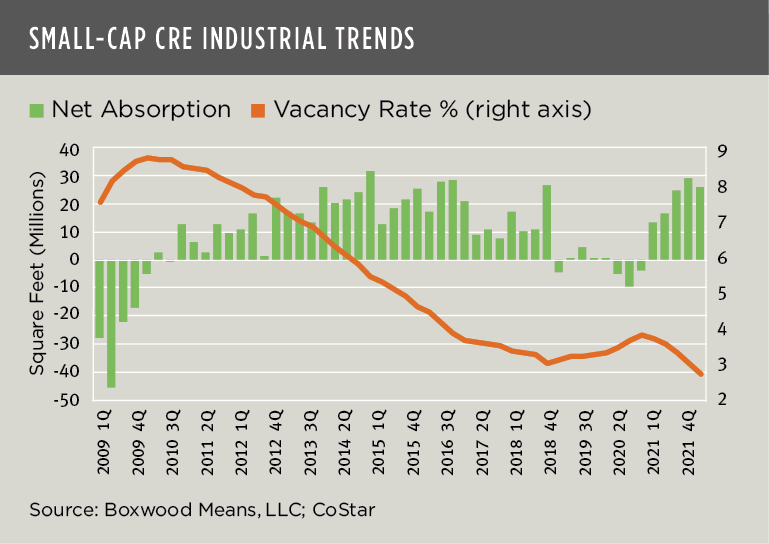 ×
Small-cap CRE space markets are thriving. If last year's robust leasing conditions are in any way indicative of, or driven by existing small business optimism, Main Street growth prospects will produce another year of ample opportunity for small-balance lenders and investors.
During Q4, for example, the MetLife & U.S. Chamber of Commerce Small Business Index posted its highest score since the onset of the pandemic, reflecting both improved overall business sentiment and better prospects for company growth. As many small businesses increase capital investment and staffing, small-cap CRE has already proven to be a beneficiary of these positive measures.
Below are key takeaways from Boxwood's analysis of CoStar's Q4 CRE data that tracks inventory of 1.1 million for-lease buildings under 50,000 sq. ft.
Occupancies Soar across the Board. Demand across small-cap CRE office, industrial and retail sectors surged to 209 million sq. ft during 2021, the highest annual volume in five years. The aggregate national vacancy rate decreased to 4.0% in Q4, 70 bps less than the same period in 2020 and the lowest level since at least 2006.
Industrial Vacancies Sink to a New Record. Unrelenting industrial occupancy gains pushed vacancies into unprecedented, low territory as users further pressed for warehouse facilities supporting their logistics and e-commerce activities. The Q4 industrial small-cap vacancy rate declined 100 bps YOY to a national average of 2.7% - the lowest on record – and to a level 300 bps below the long-term average. Annual net absorption, at a total of 96 million sq. ft., reached a seven-year high. (See the nearby graph.)

×

Office Leasing Recovers Lost Ground. Though Covid continues to deter a substantial percentage of office employees from their traditional place of work, office lease commitments among smaller office buildings recovered convincingly last year. Net absorption totaled 34 million sq. ft., erasing the occupancy losses of 30 million in 2020, and cutting the average vacancy rate by 50 bps YOY to 6.5% where, surprisingly enough, it hovered only 60 bps above an all-time low. Similarly, the more inclusive national availability rate, which dipped to a near all-time low of 8.5% in Q4, was aided by a fourth consecutive quarter of diminishing sublet space (see the nearby graph).
Retail Growth Rebuts Skeptics. Protected by vaccines and flush with federal cash subsidies, consumers returned to stores, neighborhood centers, and restaurants. As a result, retailers reported strong sales and, according to Coresight Research, opened more stores than they shut down for the first time since 2017. As the nearby graph illustrates, small-cap retail occupancies sharply rebounded by a net 79 million sq. ft. last year – the highest sum in five years, triggering a 70-bps decline YOY in the average vacancy rate to a record low of 3.8%. These healthy trends would appear to contradict the edict of experts like Sam Zell who recently decried retail on CNBC as a "falling knife."
The exceptionally robust Main Street market conditions are positives for small-balance lenders and investors, since excess demand will continue to support growing NOIs and asset values. Indeed, bank lenders have already benefited from the CRE market's strong tailwinds: As of Q3 last year, commercial and multifamily debt outstanding among depository institutions rose 3.8% YOY, and 9.2% over two years, to $2.4 Trillion among depository institutions according to the Federal Reserve.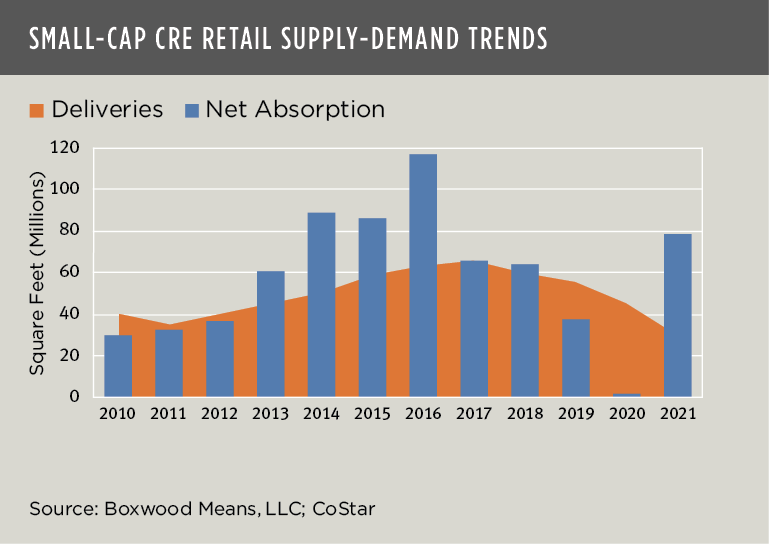 ×
That said, the Omicron strain and inflation may pose some near-term risks to the market's momentum. Ultimately, however, what is more likely to determine future CRE market dynamics will be on the supply side of the equation. On the one hand, small-cap CRE office and retail supply are unlikely to disrupt the market status quo since building deliveries are at a five-year low coupled with very modest new construction. On the other hand, supply in the industrial sector has shifted into a higher gear with a substantial construction pipeline that far exceeds the annual average amount over the last 10 years. For industry users starving for new building product, though, this development trend will be a godsend.