Even before the Fed raised the target for the federal funds rate another 0.75% in September, the U.S. central bank had already increased interest rates four times between March and July of this year. While it's still unclear whether these interventions will take a bite out of inflation, the rate hikes have clearly raised debt costs and have markedly reduced demand for CRE property investments.
Fundamentally we find ourselves in less familiar territory characterized by higher investment risk and demands for new price discovery.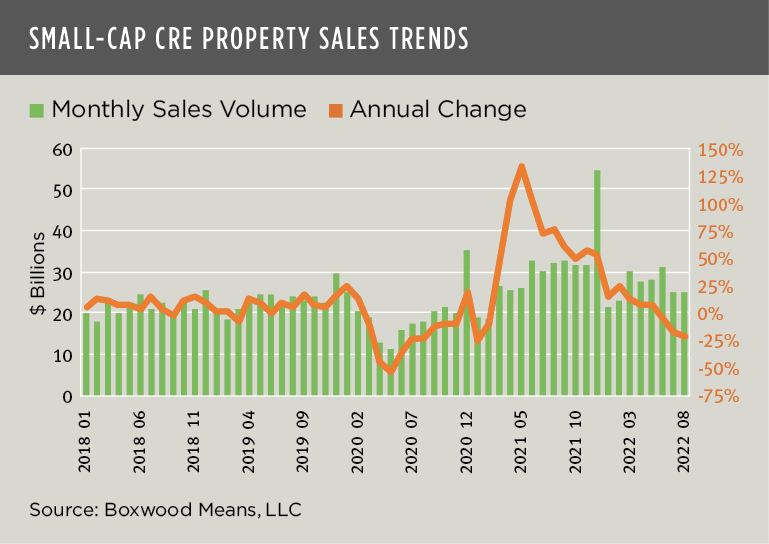 ×
Boxwood Means' latest research on small-cap CRE property sales bears this out. As shown in the nearby graph, monthly sales volume for deals under $5 million fell for the third straight month YOY including a hefty 22% decline to $25 billion during August versus a year ago. The YOY percentage declines quickened over the last three months and confirms that investors have largely moved to the sidelines as higher financing costs – derived from the 220-basis point increase in the 10-year Treasury note YTD through September – have soured many deals. A reduction in the amount of debt available, especially from commercial banks, has also played a role in the slowdown in transaction activity.
As of August, sales volume had reached $211 billion, less than a percentage point ahead of the pace in 2021 but 19% above the pre-pandemic total YTD in 2019. A similar juxtaposition holds in the large-cap CRE transaction market: i.e., MSCI Real Assets reported that while Q3 deal volume decreased 21% compared with the same period a year ago, the YTD total of $571 billion exceeded the first nine months of 2021 by nearly 17%. The robust sales activity during the 1H of the year has clearly dissipated across the board.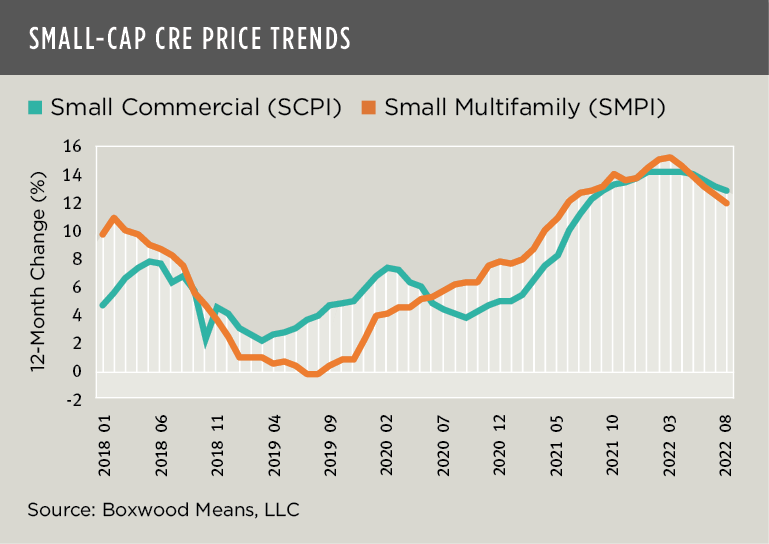 ×
The pullback in transaction volume has also produced a drag on the growth of asset prices. The next graph shows the slowing price appreciation in both small-cap commercial and multifamily property prices. Boxwood's National SCPI gained a solid 12.6% YOY, but this figure reflects a contraction for the sixth consecutive month to the lowest annual return in 12 months. Similarly, Boxwood National SMPI, with a 11.8% YOY increase, slimmed down for a fifth straight month to the lowest yield in 15 months. Generally, prices have slowed with the weakening in Q3 small-cap CRE leasing fundamentals.
Both CoStar and MSCI Real Assets have reported similar easing in price appreciation.
Predictability is a precious commodity that is currently in scarce supply for CRE investors. Whispers of recession linger. Hence, we see the risk-off stance taken by an increasing number of investors and lenders. So, we might expect that CRE asset prices and sales volume growth will continue to shrink until such a time when inflation abates, and interest rates at least stabilize.