Commercial real estate prices are known to adjust slowly to changing market and capital market conditions. Unlike the more reactive public real estate markets, the lag in CRE price movement is caused by the relative lack of transparency within the massive private real estate market.
However, we've reached the moment when inevitability meets certainty. That is, the necessary ingredients for a price correction – high interest rates, sticky inflation, the Fed's continued tightening, a sizable pullback in property sales1 – have heightened market uncertainties and recessionary fears to the point that peak asset prices and property valuations are now teetering or heading back towards earth.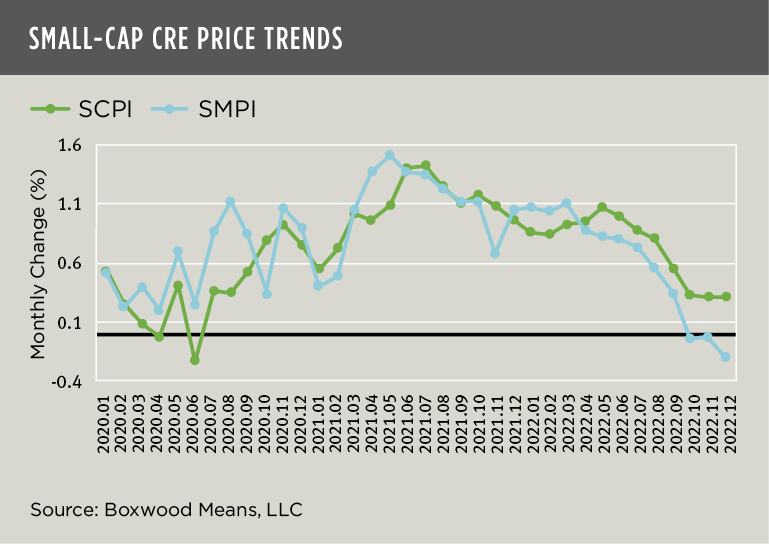 ×
As the nearby graph shows, the price trajectory of both small-cap commercial (SCPI) and multifamily (SMPI) assets bears witness to the shifting, slowing descent. Boxwood's SCPI and SMPI metrics, that track CRE prices for sales transactions below $5 million in 160 and 100 metro areas, respectively, indicate that multifamily prices declined 0.2% in December – the first monthly decline since early 2019. And though small multifamily properties averaged a 7.3% rate of return for all of 2022, per December's result the more forward-looking and annualized yield amounts to -2.5%.
These multifamily price trends track closely with residential housing prices. According to the Corelogic Home Price Index, home prices dipped 0.4% in December while recording a gain of 6.9% year over year. The linkage between these two asset types makes sense since, as many of Boxwood's long-time blog readers know, the investment prospects of locally based, small commercial and multifamily properties tend to align closely with the price performance of residential housing.
Boxwood's SCPI measure that encompasses commercial prices for a broad range of small primary and secondary property types fared better relative to multifamily last year. Small commercial properties eked out a 0.3% increase in December (reference the same graph above), projecting to a 3.8% annualized rate of return for the next 12 months and after posting a gain of 9.2% YOY. Still, this monthly advance was the weakest since August 2020, while the 12-month return decelerated for the seventh month in a row to the lowest gain in 20 months2.
While Boxwood's price indices are subject to modest revision with each month's update, it's fair to say the die is cast: Generally speaking, CRE prices will further decline and cap rates inch up as investors grope their way through a murky 2023 market likely punctuated by another rate hike or two by the Federal Reserve.