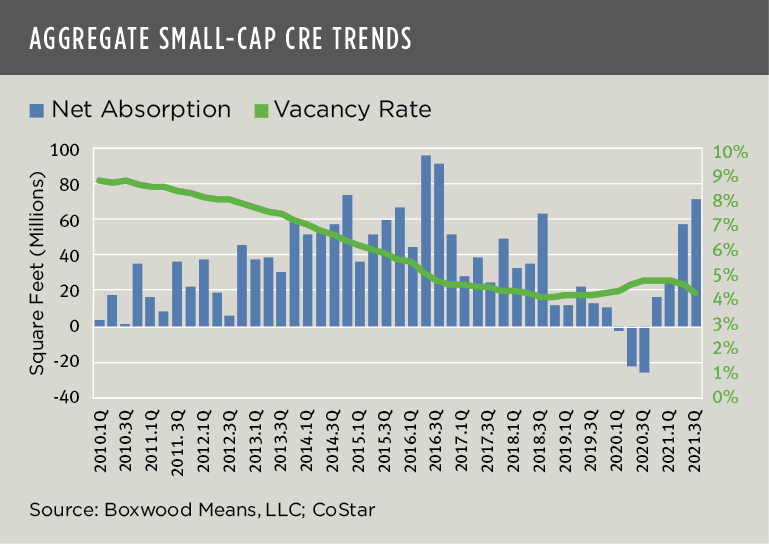 ×
Recent opinion polls suggest that small firms have grown less optimistic about the future economic climate, but this year's economic rebound improved their business health and gave the small-cap commercial real estate leasing and investment markets a jolt.
Space Market Trends
Below are the key takeaways from our analysis of CoStar Q3 CRE data that tracks inventory of 1.1 million for-lease buildings below 50,000 sq. ft.
Overall space demand is surging. After negative results during three quarters of last year, net absorption across industrial, office and retail sectors proved positive for a fourth consecutive quarter and soared 27% sequentially to 71.6 million sq. ft. during Q3. This was the highest quarterly volume in five years and underscores the market's transformation from recovery to flat-out expansion mode.
Small-cap industrial demand is without peer and booming as retailers and logistic suppliers strive relentlessly to move warehouse space closer to customers to further support e-commerce. Transportation and warehousing employment, which increased by 72,000 jobs in September and topped its pre-pandemic level in February 2020, as well as growth in manufacturing jobs, were additional stimulants to rising industrial space demand. As a result, Q3 industrial absorption netted out at 29.4 million sq. ft., or the highest quarterly expansion in nearly seven years, thereby triggering a drop of 30 basis points (bps) in the national average vacancy rate to a record low of 3.0%.
The office sector offered a positive surprise. Driven by direct leases with landlords and less so by sublet deals, small-cap CRE office demand soared 95.3% to 15.5 million sq. ft., also the best figure in five years as small firms voted heavily in favor of their employees' return to the office – at least for part of the work week. The national vacancy rate ticked down 30 bps to 6.8%, below the long-term average, but remained nearly 100 bps above the pre-pandemic low in large part because sublet availabilities – though likely having crested – still hovered near historic high levels.

×

The small-cap retail sector is a paradox. Despite the growing shift from traditional shopping to ordering online, retail space at small neighborhood and strip centers, street retail and general retail stores that serve consumers' everyday needs remains in high demand. Net occupancies rose 19.8% to 26.7 million sq. ft. for a notable fourth quarter of positive net absorption in a row and slashing the national vacancy rate to 4.0%, equivalent to the pre-pandemic level and back to its historical low point. This stellar sector performance, that flies in the face of public debate ad nauseum about the existential threat to retail posed by online shopping, conjures up Rodney Dangerfield's famous line about getting no respect.
Though hardly imaginable, small multifamily rentals are in graver supply. Occupancies of small and affordable rental housing of 5-40 units continued to rise to a national average of 96.1%, the highest level since at least 2000 after dipping a modest amount during the pandemic. Nearly 15,500 units were absorbed during Q3, second only in the historical record to the 19,400 posted in the previous quarter. These robust figures underscore the persistently high demand for affordable rental housing that has cascaded into the highly energized single-family rental housing market.
Sales and Price Trends
Here are the latest trend updates for Boxwood's small commercial and multifamily price indices covering investment sales activity under $5 million in value.
Asset trades fully recover. Small-cap commercial and multifamily sales volume reached $153 billion through July of this year, 36% more than the same seven-month period last year and six percent ahead of the robust pace set in 2019. Investors moved off the sidelines and into the fray as occupier fundamentals tightened further and small-balance capital providers continued to be highly accommodative.
Prices gains reach a new high. With tailwinds from GDP's 6.7% annual growth rate during Q2, small-cap CRE asset prices have accelerated at the strongest pace since at least 2006. Boxwood's national Small Commercial Price Index (SCPI) that tracks 160 metro areas rose by an unprecedented one percentage point or more over the last five months catapulting SCPI to a record annual growth rate of 10.6% this past July.

Similarly, Boxwood's national Small Multifamily Price Index (SMPI) increased by a plentiful average of 1.4% over five consecutive months to achieve an annual return of 12.6% in July. This SMPI annual growth is the highest rate in seven years and highlights the intense investor hunger for small rental properties that suffer from chronic undersupply across the country.