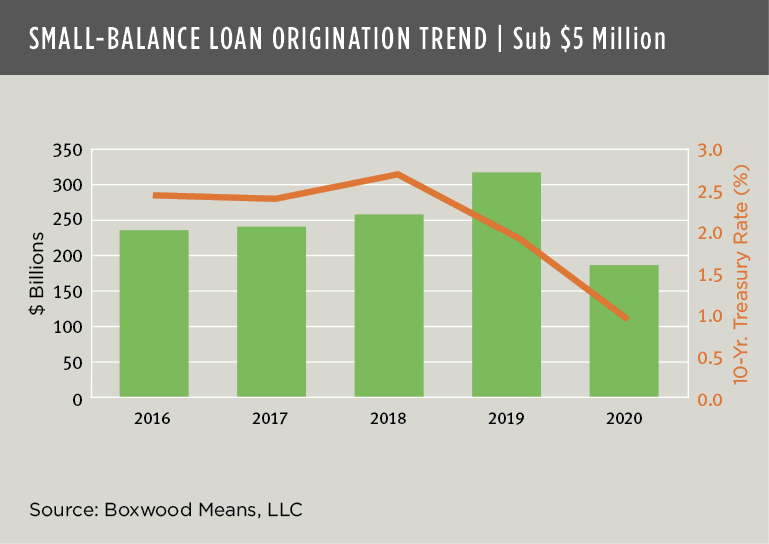 ×
An abrupt reversal in fortune for small-balance lenders during 2020 was predictable considering the devastating impacts of the pandemic on the Main Street economy. Small-balance loan originations sank to the lowest level since 2010 as a result.
The volume of closed loans under $5 million totaled just $186 billion last year, a substantial 41% decline from the previous year's sum of $317 billion. Of course, the YOY percentage drop was magnified by the fact that 2019 loan volume reached a record level amid a booming CRE market expansion fueled in part by a plunge in the 10-Year Treasury rate below 2% (see the nearby graph).
The Mortgage Bankers Association similarly reported a 26% decline across all commercial and multifamily mortgages last year after a record haul in 2019.
Aspects of recent small-balance loan (SBL) origination trends included:
As small-cap CRE prices appreciated during the upcycle, the average size of SBLs rose 18% between 2016-2019 to $647,000 before easing 6% to an average of $610,000 in 2020.
Originations reflected a relatively stable mix of property types over time with last year's percentages led by retail (20%) and followed by multifamily (16%), industrial (14%), office (11%). A generalized "commercial" portion of various primary and secondary CRE property types accounted for the remainder (39%).
Sub-$1 million loans represented 15% of total 2020 volume, an increase of 300 basis points versus 2019 as the smallest deals closed at a better rate than higher-valued loans during the pandemic, and the average loan size ticked up to $388,000.
LTV ratios for sub-$1 million averaged 75.0% in 2020, down slightly over the previous couple of years as market uncertainties escalated. LTVs for SBLs between $1 and $5 million also tightened last year to an average of 73.3%.
With solid evidence of a revival of small-cap CRE and small business, legacy small-balance lenders are poised for a rebound in SBL production this year. The expected bounce back has also inspired new entrants to the space. For these and other societal reasons then, it certainly feels like Springtime is upon us after difficult times.