Small-cap CRE is rebounding as small businesses come back to life. As vaccination rates approach a positive tipping point here in the U.S., business and personal optimism is rapidly spreading. We are all remembering the value of community, social gathering, and public spaces. We are welcoming the ordinary again, enjoying spontaneous exchanges, making plans.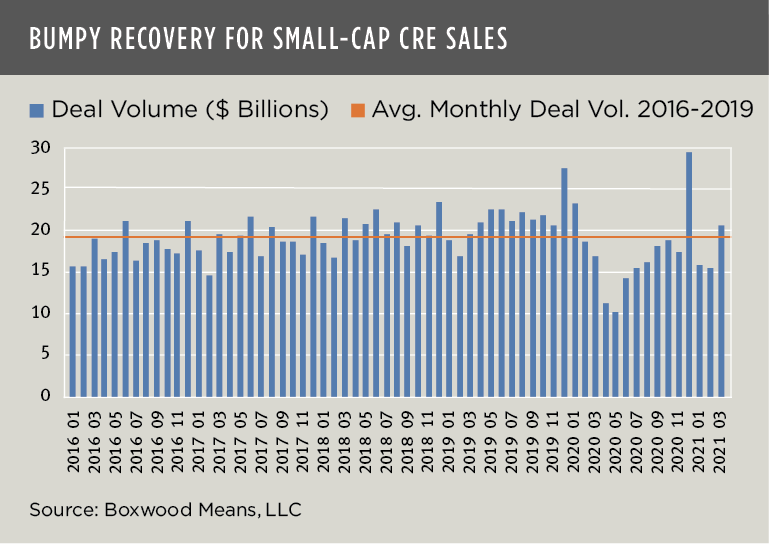 ×
Granted, local shutdowns dealt a devastating blow to many Main Street businesses. Many stores are still shuttered and/or plastered with for-lease signs. But the national economy is humming, and many small business owners are now rushing to catch up with the quickening pace of economic activity. NFIB reports that both small business hiring and capital investments are at or near record high levels.
The rewiring of social and business connections is also benefiting small-cap CRE markets.
As the nearby graph shows, small-cap CRE deal volume has improved, albeit unevenly, since bottoming out in April of last year. Transaction volume rose to $20.7 billion this past March according to Boxwood's research – a mark that is slightly better than the pre-pandemic monthly average recorded between 2016 and 2019. It is also the highest sales volume since January 2020 except for last December, the month when deal closings typically jump.
That said, it's likely that sales activity will continue to fluctuate for a time as buyers and sellers jockey for firmer, common ground on asset prices.
Property prices, if anything, have proven extremely resilient. As the nearby graph illustrates, small-cap CRE price growth slowed to an annual rate of 3.7% last fall but has steadily increased since then. According to Boxwood's Small Commercial Price Index (SCPI) that tracks sale transactions in 160 U.S. metro areas, asset prices rose to 6.1% YOY in March to the highest rate in 11 months.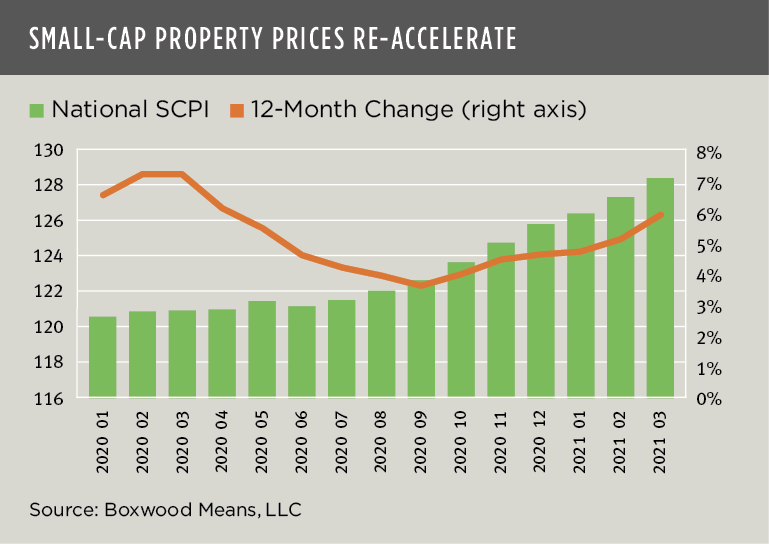 ×
Similarly, small-cap multifamily prices have accelerated. Our Small Multifamily Price Index (SMPI) advanced by roughly 400 basis points since the beginning of the pandemic to an annual growth rate of 8.2% during March, and the highest 12-month increase in nearly three years.
Indeed, it appears we are moving rapidly from a period of contraction to one of expansion spurred by strong increases in vaccination rates coupled with the fed's stimulative fiscal and monetary policies. The Main Street economy will be a major beneficiary.
Yet, we are not collectively, fully out of the woods yet. But the clearing ahead is within sight, and it's a familiar landscape filled with restored social and business opportunities.