After record-breaking property sales and soaring prices last year, the robust pace of growth in small-cap CRE investments grew sluggish during the first quarter of 2022.
According to Boxwood Means' research, last year small-cap CRE transactions totaling $346 billion involving property trades under $5 million smashed previous records and fueled unprecedented annual price growth of 13.5% – more than double the pre-pandemic 5.7% annual return during 2019.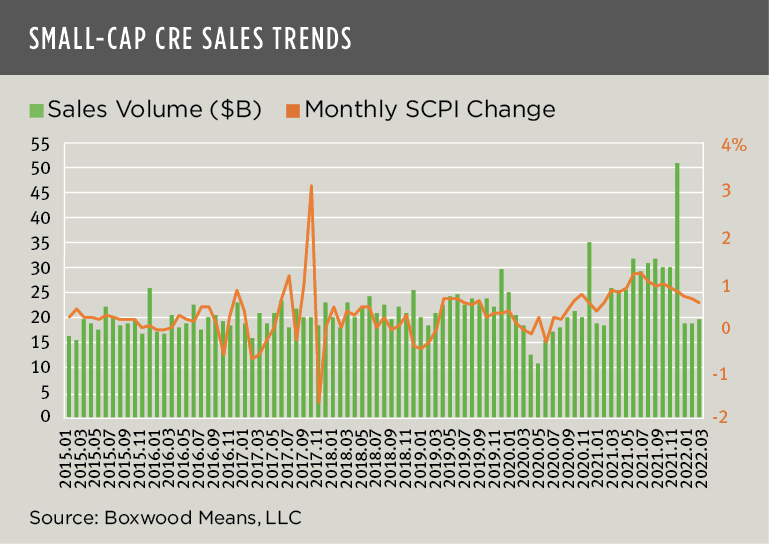 ×
However, facing this year's shift to higher interest rates, growing inflationary pressures and the specter of a future recession, the buying power of small investors has waned along with some of their appetite for CRE assets.
First quarter sales volume of $57 billion, though on par with the corresponding quarter in 2019, was down roughly 10% compared with the first quarter over each of the past two years. That said, as shown in the nearby graph, last December was a monster month for closed sales and may very well have pulled deals forward resulting in the lower transaction totals shown in the first three months of this year.
Even so, a recent Wall Street Journal article indicated that the potent CRE market at large may be softening after MSCI Real Assets reported that property sales of principally larger CRE assets abruptly declined 16% in April from 12 months earlier.
Also, as the graph here further illustrates, small-cap CRE price growth slipped to a pace below 1% during each of the first three months in concert with lower sales. Yet month-over-month price changes can be somewhat volatile (and subject to modest future revision). Furthermore, Q1's overall 2.4% rate of growth was equivalent to the increase during the same period from a year ago, while March's annualized price change maintained a double-digit increase for the ninth consecutive month.
These relatively stable asset prices reflect the fact that though inflation is at a 40-year high, CRE tends to be a natural inflation hedge – as long as the economy stays the course.
As we look forward, we expect a choppy market for deal-making in the near term. Some further easing in asset price growth and expectations – along with some widening of cap rates – might be a healthy development for the next stage of the market cycle and, thereby, promote improved deal flow.