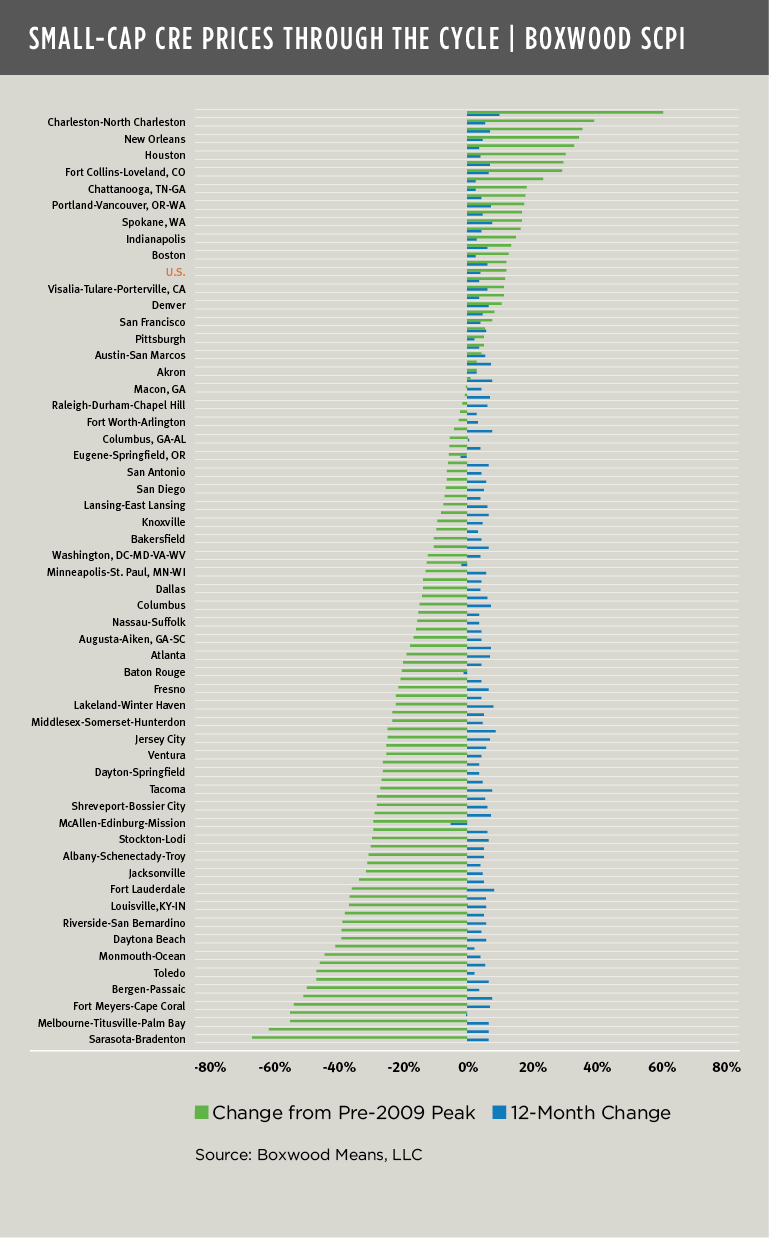 ×
Despite the fog that shrouded CRE markets over the past year, there was promising improvement in small-cap CRE prices. Price increases were modest but unmistakably widespread, suggesting that the small business economy is poised for take-off later this year.
Boxwood's National Small Commercial Price Index (SCPI) increased 3.9% YoY through November, down from 4.9% from the same 12-month period in 2019 amid the dampening effects of COVID-19. Yet in testament to the market's resiliency, as of the last reading SCPI was a record 12.2% above the previous peak level before the Great Financial Crisis.1 Notwithstanding the turmoil and disruptions over the past year, this positive price growth, coupled with our recent reporting of a rejuvenating small-cap CRE space market, are re-assuring signs of a pending economic revival.
Small-cap prices have advanced broadly. Of the 160 markets that Boxwood tracks with SCPI, 150 or 94% of the locations posted annual gains. Leaders included Greeley (9.9%), Huntsville (8.8%) and Fort Lauderdale (8.5%).
However, lest we forget, the damaging impact of the GFC on small-cap CRE market prices has cast a long shadow over many markets. As shown by the green bars on the lower half of the nearby graph, prices in many metro areas have only gradually recovered with price levels still closer to their cyclical low than their pre-2009 high. For example, of the 112 markets for which Boxwood maintains more than 10+ years of historical data, prices in 23 of the metros show prolonged peak-to-current losses of between roughly 30% and 60% including a high concentration among Florida locations. By contrast, prices have re-inflated way above former peak levels in other metros (at the top of the graph) where the local economy rebounded at a much faster rate following the GFC (Note on the bar graph: Some of the metro labels on the vertical axis do not precisely correspond with the horizonal bars.)
The impact of the current pandemic was more abrupt, shocking, and has caused far greater losses for small businesses (and families) than the 2008-2009 recession. Certain commercial property sectors like hospitality and some retail uses have suffered deeply this past year, and those property values have followed suit. But investors expecting widespread distress across all sectors will likely be disappointed. As the economy and small-cap CRE occupier trends continue to improve, we clearly see that COVID-19's overall effect has only slowed recent price advances and a continuing ascent.