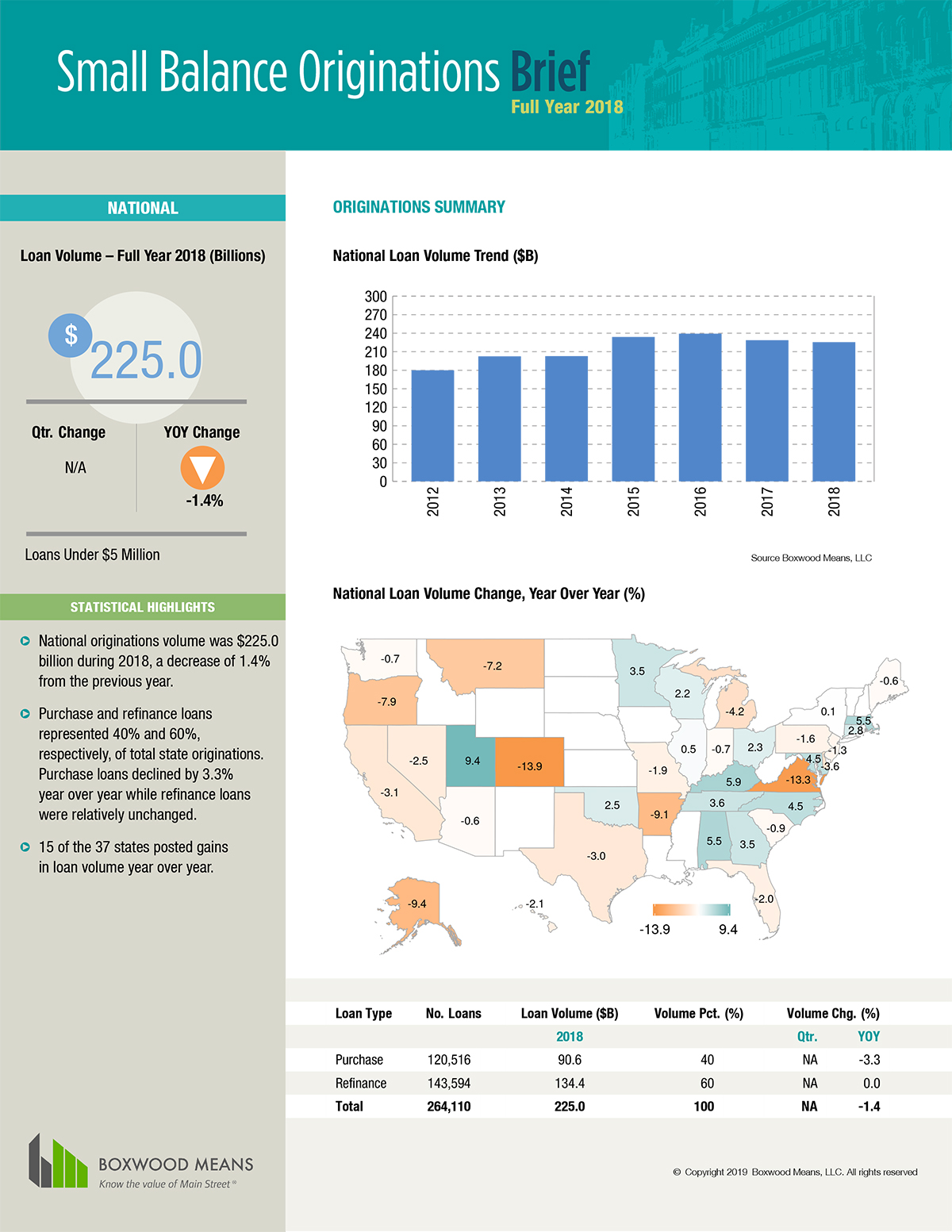 ×
Last year's haul of loan originations reminds us once again how fertile the fields are in small-balance commercial lending.
Boxwood's research indicated that closed SBL loans under $5 million reached $225.0 billion in 2018 and surpassed the $200 billion figure for the sixth year in a row. It goes without saying that such financing from bank and nonbank sources alike has played a major role in underwriting the economic recovery of Main Street businesses as well as the increased prosperity created among small-cap CRE property owners and investors since the end of the Great Recession.
National origination volume eased 1.7% compared with 2017 and fell 5.7% short of the record-high volume in 2016. Nevertheless, this total included a whopping 264,000 SBL transactions, split 60%/40% for refinance and purchase loans, respectively, over the past year. As an indication of just how "small" but vital a role small-balance funding still plays in the CRE market's expansion, most of these loans, or 73%, were below $1 million in value.
The top 15 lenders commanded 19.1% of the total market, down a modest 7 basis points YoY. While JP Morgan Chase and Wells Fargo remained locked into the top two spots, both Arbor Commercial Mortgage and CBRE Capital Markets are now fixtures among the highest ranks at Nos. 3 and 4 on the league table - conspicuously so because of the growing challenge that they and other nonbanks represent as formidable participants in the space.
Even if the economy stays relatively healthy, we can't expect the market pie to expand further. Instead, as we near the end of the credit cycle lender competition has intensified as it did during the CRE market's last cyclical peak in 2006-2007. But this time around the competition has escalated even more so as a result of structural shifts sparked by innovative workflow methods and online technologies. Without a suitable response, some traditional lenders are likely to get caught flat-footed or, worse, lose ground on this fruited plain.
You can register and download our complimentary National SBL report here.